Our website contains links to partner sites. If you click from our site to the partner's site and purchase their services there, we will receive a commission for mediation (Find out more information). This form of cooperation does not affect the objectivity of our reviews. With each purchase made through links from our site, you support our editorial office so that we can create quality and useful content in the future. Thank you.
Important notice All our articles are written by real people. They are not artificial texts from a machine.
Free Astra Pro template for everyone at Cloudways
Do you make websites, like WordPress and want a free premium Astra Pro template? You can get it from managed cloud hosting Cloudways, which has entered into an interesting partnership with the developers of one of the best WordPress templates. All WordPress users can benefit from this.
I won't keep you in suspense for long. I'll give it to you right at the start, how to get a free Astra Pro premium template for a year. Just order any cloud hosting from Cloudways. You automatically get the ability to use the Astra Pro template on an unlimited number of sites.
Why use Astra Pro and Cloudways together?
The Astra template is definitely one of the best WordPress templates. I included it there mainly because of its simplicity, speed and lightweight source code. It's actually a multifunctional template optimized for performance. You can read more about it in my review Astra template.
Cloudways is a managed cloud hosting company through which you can rent a high-end server from various providers such as Digital Ocean, Vultr, Linode, Amazon AWS and Google Cloud Platform. Cloudways is listed here as the server administrator. With its help, you can handle the initial setup of the leased server. This hosting will provide you with enough power for your project with easy setup and worry-free administration. Learn more about Cloudways in our review, where you'll see how easy it is to set up your own server with Cloudways.
Both brands bring their customers more powerful technology to create and run their web projects. Simplicity plays a major role here. That's why you can get the Astra Pro template simply by installing a new WordPress site through the Cloudways administration interface.
How to get the Astra Pro template for free?
The first step is to subscribe to the Astra Pro template. The pictures will tell you more about how to do the whole thing.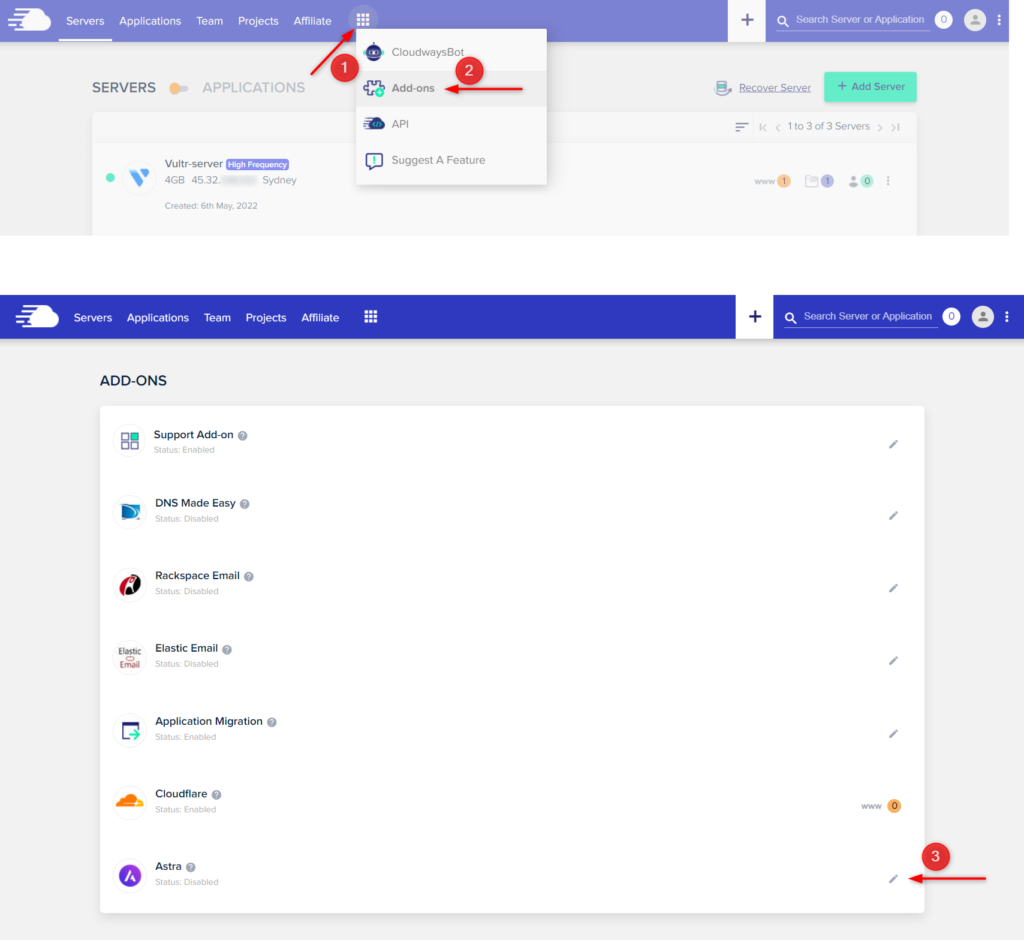 The next step is to deploy (install) the Astra-enabled WordPress application on a new or existing server. If you don't know how to do this, check out the tutorials directly on the Cloudways website.
Then, you can just use the Cloudways interface in the app's administration to find out the login credentials for the installed WordPress. After logging in, you have the Astra Pro template installed.
As I wrote in the introduction, getting a free template is easy. Just order any cloud hosting from one of the 5 companies. This automatically gives you a free subscription to Astra Pro for one year. This template usually costs $59 per year. It's a very nice gift that will benefit all WordPress and Cloudways users. Yes everyone, because the Astra Pro premium template is also available to existing Cloudways customers.
How much does Cloudways hosting cost with Astra Pro template?
Cloudways offers managed cloud hosting from several companies and in different configurations. The cheapest cloud hosting comes out to $10 per month the most expensive $274. Of course, the difference is in the technical configuration of the server.
Is there really no extra charge for Astra Pro?
There is no extra charge for Astra Pro for the first year. Astra Pro costs $59 for a standard annual subscription. With Cloudways, this fee is paid upfront thanks to the partnership between the two brands, so new and existing Cloudways customers can actually use this template for free.
Conclusion
Performance is the most important thing for today's web projects. We feel it on our own projects, so we actually use Cloudways for almost all of our websites and web projects. We don't need a special person to manage the servers because Cloudways takes care of everything important by itself.
Astra template is one of the most popular WordPress templates. This is because it's fast, flexible, multipurpose and works with just about all the best WordPress builders as Divi. We use it ourselves on some of our own and client sites, so I highly recommend it to others.
The combination of Cloudways and Astra makes sense. Just because you can try managed cloud hosting and the Astra Pro template with its premium features for a reasonable price.